Courtney in Cape San Blas, FL
Typically, our Florida vacations would take us to the popular spots such as Destin or Rosemary Beach on (Highway) 30A. Last year, however, we branched out to an area we had never been - Cape San Blas. A quiet, non-commercialized yet charming peninsula with St. Joseph Bay, FL on one side and the Gulf of Mexico on the other.
There were 8 of us - 6 adults and 2 toddlers - and all had a great time! It was the perfect way to recharge and spend quality time with family. I, personally, enjoyed having simple, nature-focused options like beach exploration, horseback riding on the beach, bonfires on the beach (or failed attempt in our case haha), yoga on the Bay, riding bikes, etc. Some of us commented that it would've been nice to have some livelier options in the evenings (not late night, this was a family friendly vacation) but rather some nearby shops or restaurants to walk around, maybe some live music playing. The Cape is very quiet especially at night so plan accordingly. Also, renting a well-equipped house with a pool is very worth it.
I wanted to share where and what we ate, the activities we enjoyed, and where we stayed.
Eat
Indian Pass Raw Bar - about 6 miles east of the peninsula, this casual spot has its charms with self-serve drinks and "local" flare - kind of felt like I was at someone's backyard party, but in a good way! I enjoyed the baked oysters, smoked fish dip, and stuffed shrimp!
Weber's Little Donut Shop - prior to the trip, I read that this little donut shop has long lines consistently. They are only open Tues-Sat from 7:30am - 11:30am or until sold out. One morning (my birthday), my husband, Mom, Dad, and sister braved the lines to bring back birthday donuts :) Seeing as I didn't stand in the line (thank you, family), I definitely felt the donuts were worth it and tasted delicious. They have a irreplaceable homemade taste to them and were definitely best eaten the day of!
Shoobies - cute little ice cream truck
Cape Trading Post - general store where we picked up a few essentials (milk, eggs) as well as s'mores and bonfire supplies. Weber's Little Donut Shop is in the parking lot.
Make our own s'mores! We tried to make s'mores with bonfire on the beach but didn't realize we had to get out there well in advance to get the fire going. #fail --Despite this, the next best thing was using our grill back at the house.
Piggly Wiggly grocery store was about 13 miles away in Port St. Joe. We went there for major hauls of food and drinks. Also, diapers :)
Triple Tails for their seafood market - got some fresh fish to cook back at the house. *Per the website, I cannot tell if they still have a seafood market attached to the restaurant.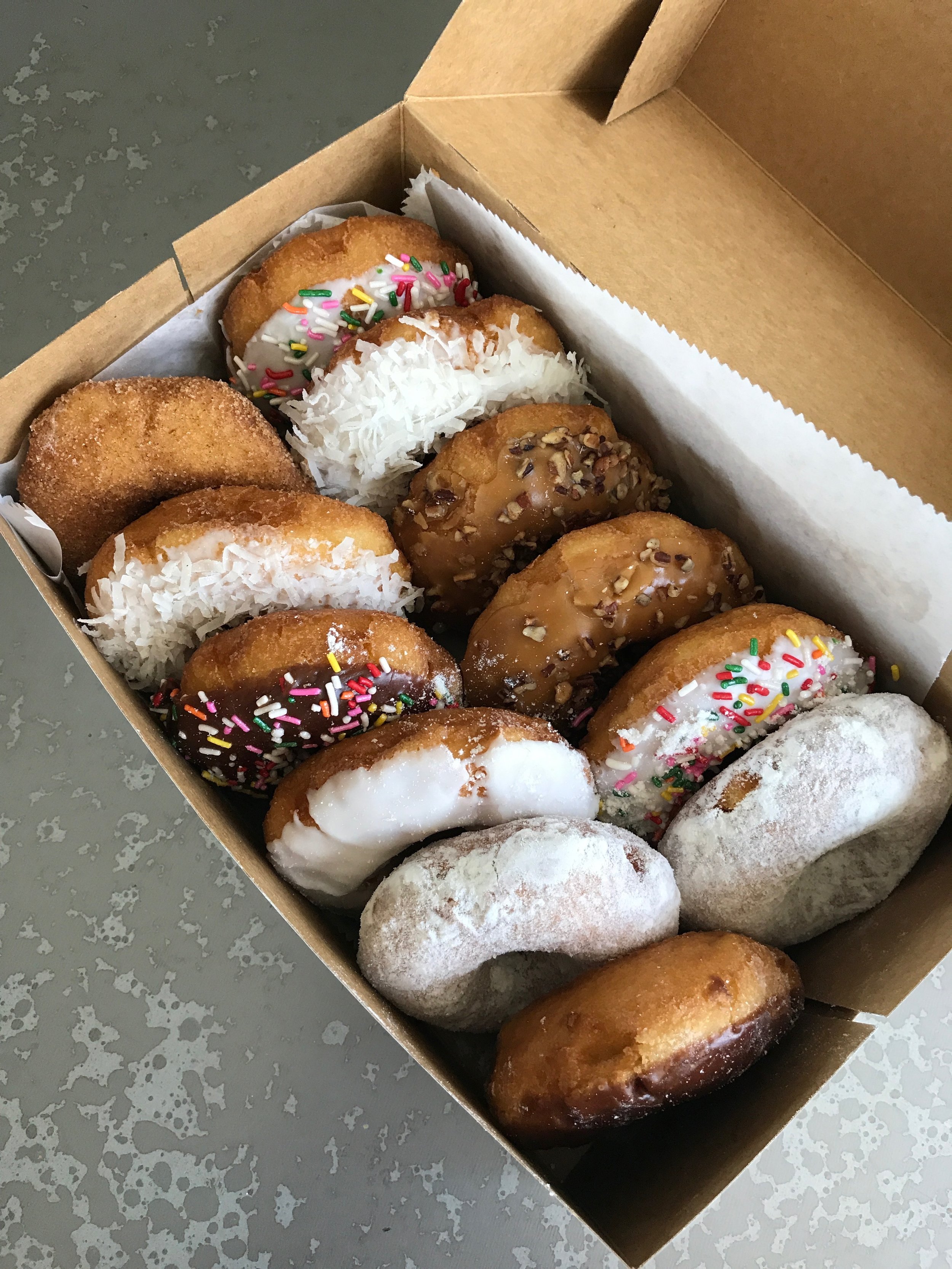 Play
Horseback Ride on the beach with Rockin M Ranch - we received a credit through our rental company's Xplorie program and was very satisfied with the entire experience with Rockin M Ranch. They were friendly and professional, and the 1-hour long ride went by fast. Our daughter was 3 years old at the time, she was in complete awe of the experience and wished the ride were longer!
Beach - goes without saying but I would be remiss if I didn't emphasize just how beautiful the beaches were - pristine and uncrowded with amazing sand dunes.
Pool - our house pool was awesome. It had everything we needed. The plentiful lounge chairs made for a relaxing time.
Riding bikes and jogging up and down the peninsula was a fun way to explore and exercise at the same time.
Yoga classes at Sunbird Yoga - this adorable house turned studio was a hidden gem on the Bay side. The instructor was fabulous and having a yoga studio on the peninsula is priceless.
Golf - my husband, brother-in-law, and Dad played golf at the St. Joseph Bay Golf Club in nearby Port St. Joe and had a good time. The golf course is about 10 miles away from where we stayed on the Cape San Blas peninsula.
Explore Apalachicola - a fishing community about 20 miles away from Cape San Blas. My parents ventured over there one day and found it to be charming with its eclectic shops, galleries, and restaurants.

Next time: St. Joseph State Park - we didn't make it into the state park but I heard the hiking and snorkeling are ideal here.
Stay
We stayed in a beautiful beach house rented through Sunset Reflections by Natural Retreats - the house had 4 bedrooms, 4.5 bathrooms with a lovely in ground pool and only 50 yards from the beach via a community boardwalk! I highly recommend investing in a rental beach house with abundant amenities as Cape San Blas is a quiet area with no commercialism so we spent a lot of time at the house. It was fully equipped for fun with the open living room and fully stocked kitchen, sparkling pool and spacious pool deck, outdoor grilling area, fun equipment such as wagons and bikes, as well as beautiful decks with chairs and tables to watch the dolphins, enjoy meals, read, and take awe in the amazing sunsets.
Other
We also coordinated a family beach photo session with Ana Edwards Photography (mother and daughter team) who were very talented and made the session enjoyable. Highly recommend!
I hope you get to travel near and far, and often!
Peace.